Last week Ryan and I took off for a quickie trip to Austin, Texas. We had just missed South By Southwest (SXSW), the huge music and technology festival, which was by design. SXSW is notoriously a drunken multimedia mess, and we were in search of a calm retreat. We'd both never been to Austin before, and really wanted to get to know what the city is really like (when there aren't an extra 25,000 people there).
Some cities are great for visiting, others are great for living. Austin seems to be one of those rare cities that is both cool to visit and seemed totally livable.
I have a few photos from the trip, so I'm breaking this up into two parts.
On Wednesday we took off for Austin, and with the lovely flight delays that American Airlines provided us, we barely made it. Once we were in Austin, we caught a bus ($1!!!) downtown, and then hoofed it to the apartment that I'd booked on airbnb.com. Then we wandered down to the local bar and ate and drank way too much.
Thursday we walked down to the local bakery and had treats for breakfast. We walked past this love note engraved on the sidewalk, and I could tell already that this city was going to be silly.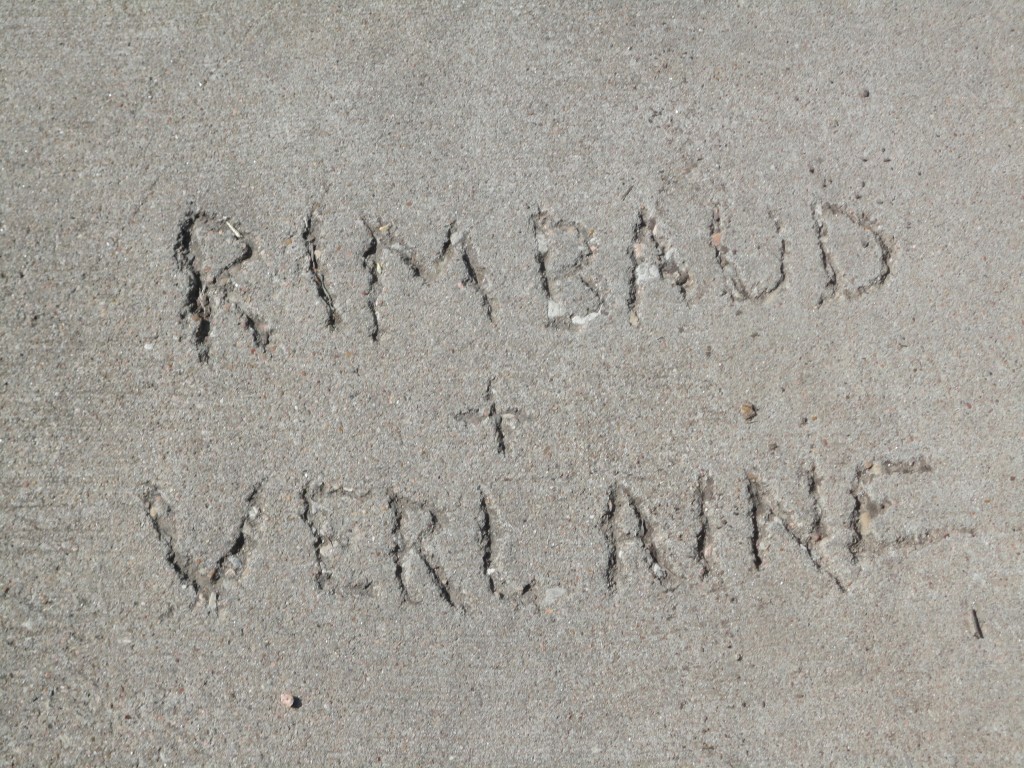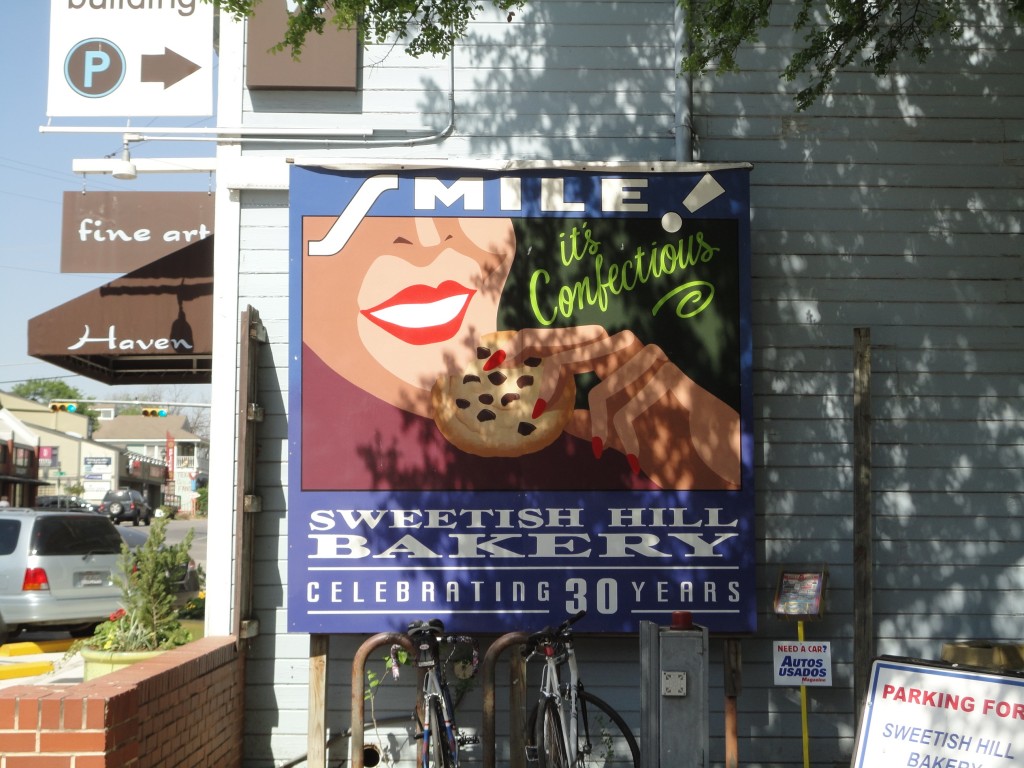 Afterwards I was still hungry, so we stopped by the Whole Foods across the way for a little something extra. I was really impressed by the electric vehicle charging station and the bicycle parking + repair station. So progressive!
After more food we wandered over to Lance Armstrong's bicycle shop with the intention of renting a bike. There was really nobody around to help us, so we left not sure quite what to do. With no plans, it was straight to the drink.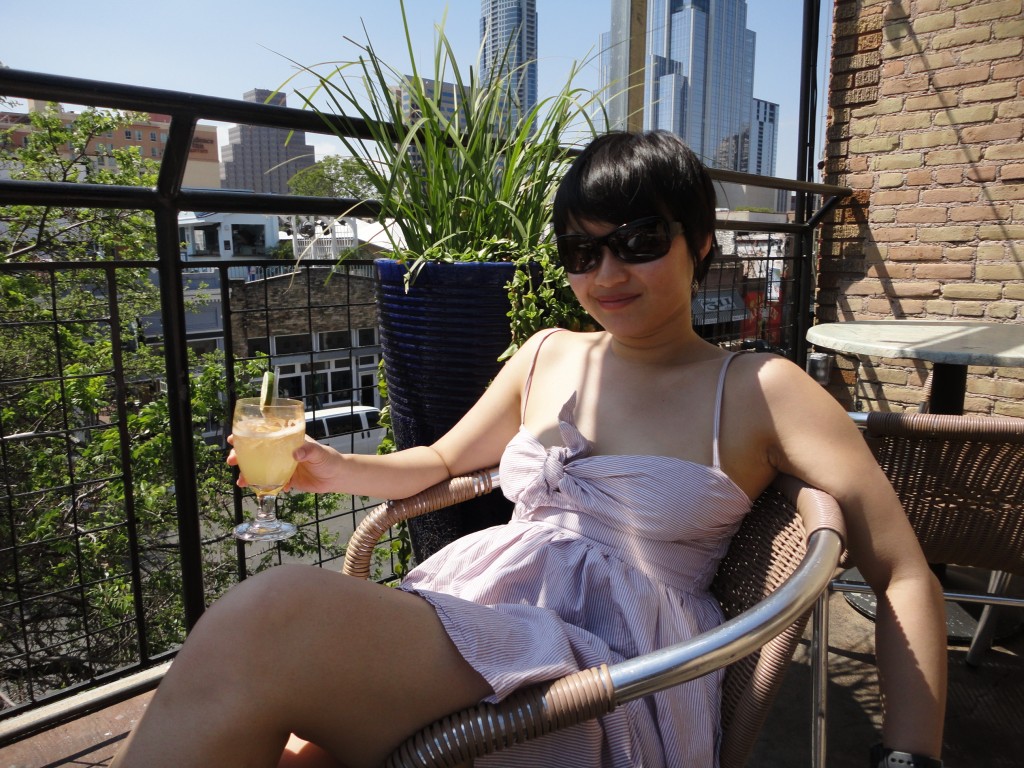 Much better.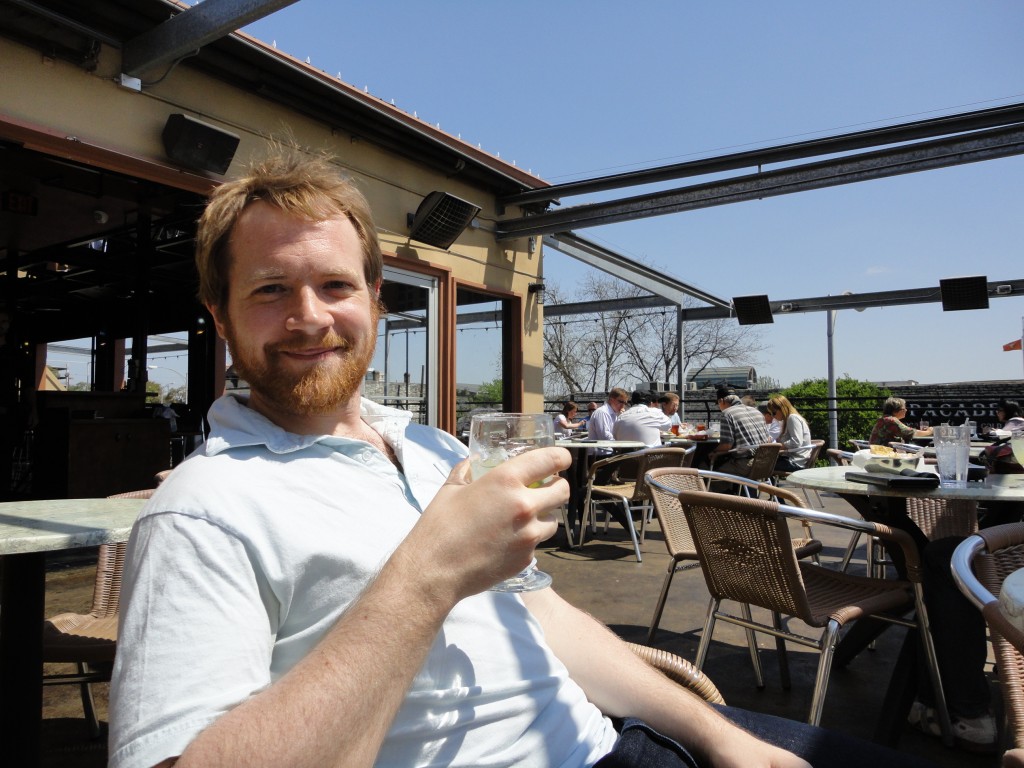 While we sipped margaritas we harnessed the power of the internet to rent a car. Yes we lasted maybe 3 hours in Austin without a car. Tragic.
Things were much better once we'd gotten the car (70 bucks for several days, totally worth it). We moved on to South Austin, and got haircuts at a shop that offers you a beer the moment you walk in. I am noticing a theme in my vacation!
A couple wearing matching flip flops, t-shirts and camouflage shorts were in the barber chairs getting matching mohawks. Their parents and a friend were there for support. Perhaps they were getting hitched?
The parents in the background watching…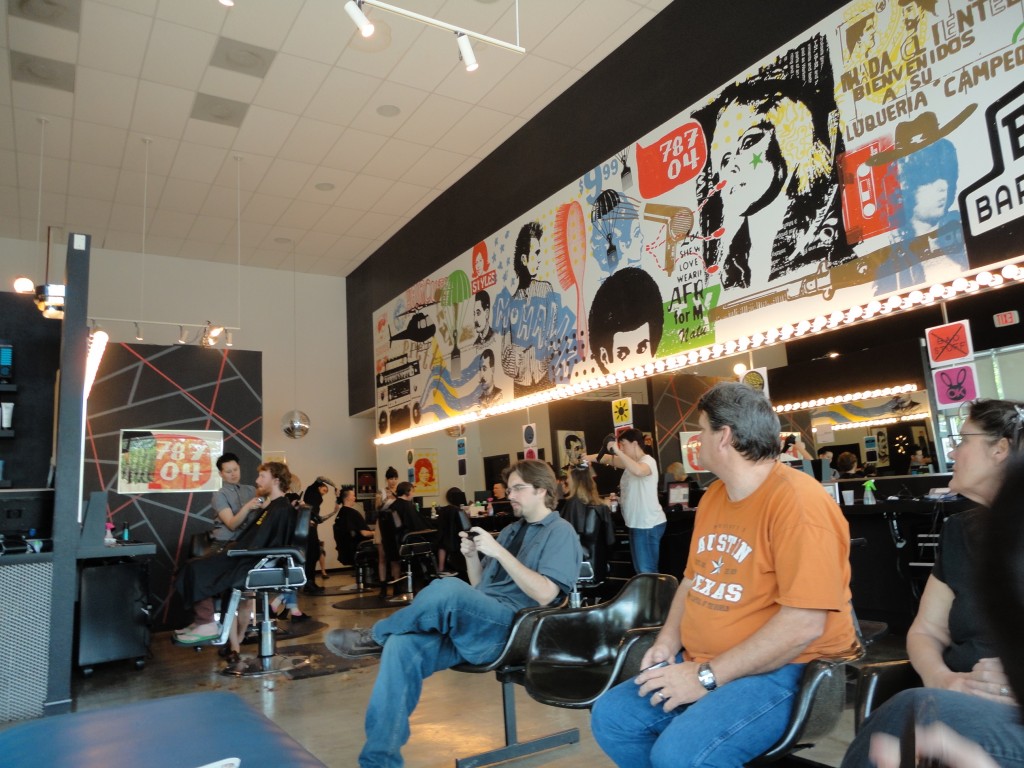 Afterwards we went vintage shopping. The vintage scene was alive and well in Austin, but also seriously overpriced. 17 dollars for nasty modern Converses??? Please.
We did stumble upon a really cool toy store though. Toy Joy was near the UT campus and carried all sorts of geeky toys from The Settlers of Catan to Aquasaurs to Asian bug eyed Hello Kitty knock offs. Heavenly!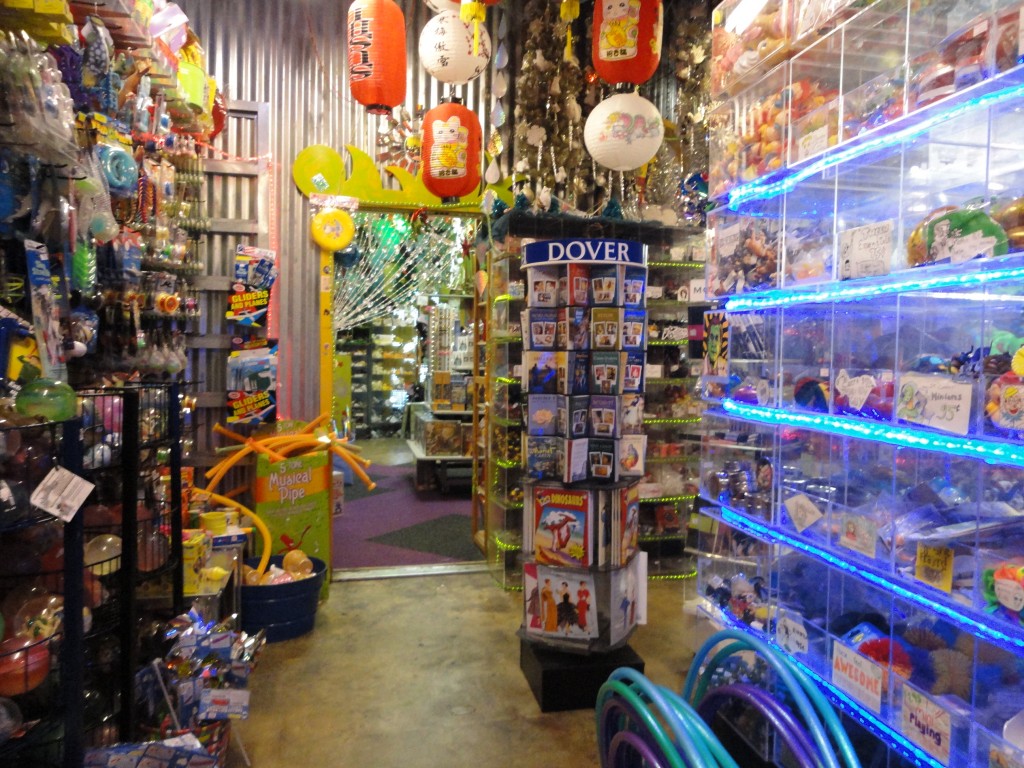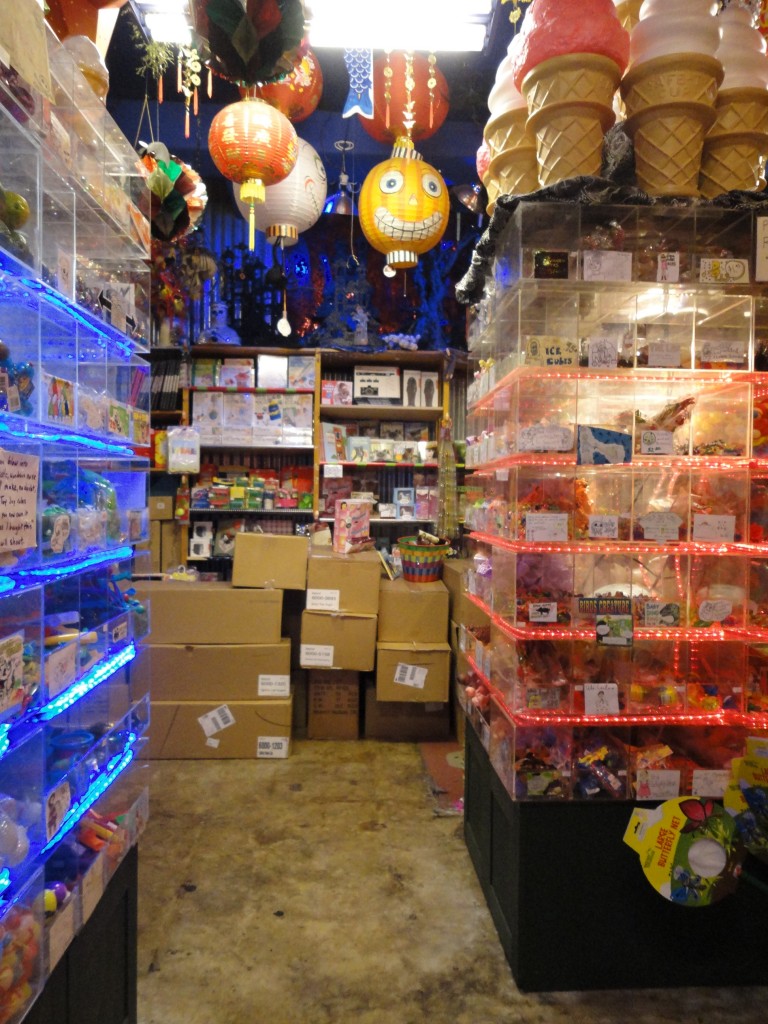 Choose Your Own Adventure Books are coming back! Can you believe it?
For dinner we headed to the Alamo Drafthouse, a movie theater that serves dinner as well. You just write down what you want on a little pad in front of your seat. Great place! Really laid back, and it was awesome to have a pitcher of beer and dinner while we finally saw The King's Speech. I don't know if it was really best picture worthy, but it was lovely to look at, what with Colin Firth and the army of Corgis.
We got there a bit early… Our waitress was kind enough to indulge.
In the same strip mall area was The High Ball, a 60s style lounge/bowling alley/music space. There was a rockabilly country band playing so we danced a little, but really couldn't keep up with the spirited dancing of the locals. All that swinging and two-stepping! Near the bowling alley twenty-somethings bowled and watched a psychedelic Russian cartoon about a dinosaur wanting to be born.
It was at this point that I knew this city was truly strange…
We did some more things worth sharing, but I'll put that up another time. 🙂