After an unusual heat wave in the Bay Are, we've returned to our regularly scheduled fog and gray, just in time for fall. Â Also, just in time for racing season, thank god.
Another year, another JP Morgan Corporate Challenge. While the race is a short distance (3.2 miles), and the whole thing goes by FAST, that doesn't mean that it's easy. If you're competitive, you're sprinting the entire way.
Last year around this time I was in tip top run shape, and was gearing up for a half-marathon. This time around was much more casual. I have been running for fun, and barely training for a 12K (coming up in a week…).
Run team run!
While the race is really just a corporate bonding event, there was also a greater international challenge being hosted at the same time. Basically JP Morgan flew in 2014 winners from around the world, and pit them against each other. They got to go first, and then it was the "fast" regular runners, then the rest of us regular office drones (walkers and runners). According to the race's website, there were 10,000+ runners from 330 companies. !!!
Short fun runs are always the worst races to run. While they can have fun themes and cool schwag, you are also surrounded by people (and some children) who … hmm.. how to put this kindly… get in the way. You'll be running behind someone, and suddenly they'll just decide to start walking, right in the middle of the road!!  Also people dart on and off the courses, and there were quite a few small collisions. My coworker said he saw one guy trip into a barrel roll! Thankfully they keep medical staff on hand in case of emergency. Last year I saw someone being loaded into an ambulance at the finish line, but this year seemed pretty quiet.
Jeans, brah, rly?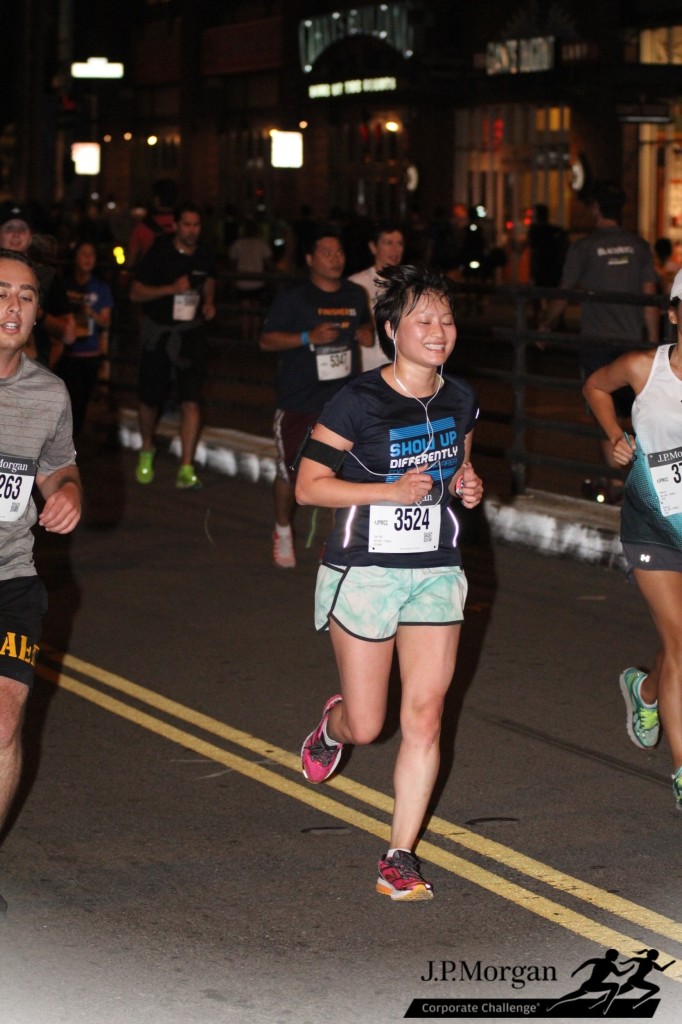 Running.
Finish line. Ready to go home and eat nachos.
With all the different waves of runners, Â we didn't get to start running until 7:25 or so :/ . Even then we were walking a solid couple of minutes before things thinned out enough to "run." Â I made an 11 minute mile, which is about a minute slower than last year. For not actively training, however, I'll take it.
I love the post race happy hour with my teammates, but given all the build up and waiting around, I'm not sure that I'd do this race again. I run the same distance on my morning runs down Valencia street, and it's much less stressful.