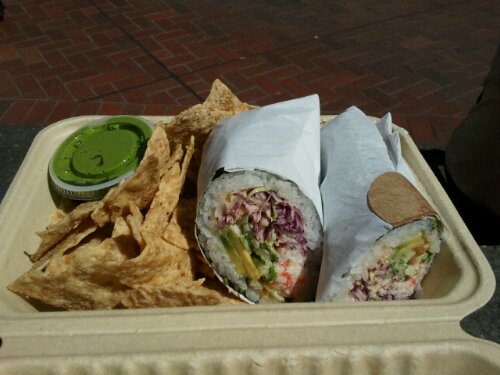 When I heard the buzz about Sushirrito a few months back, I knew I had to check it out. Still, the lines were said to be legendary. I bided my time. Today I met up with Tristan for a quickie lunch, and man, the lines are still brutal!
We were in line at least 30 minutes waiting just to order, and we ended up getting the same thing: the Crispy Ebi roll. From the website:
Crispy Ebi $10.50
Crispy Tempura Shrimp, Melted Pepperjack Cheese, Shredded Crab, Plantain, Avocado, Cucumber, Green Onion
Sauce: Sriracha Crema
Sounds yummy right? I got mine with a side of rice chips and chimichurri sauce (the green stuff).
I gotta say, I've heard mixed reviews about the service and the food, but I enjoyed my roll. It really hit the spot and filled me up without being way too heavy. It is in NO WAY a burrito, like say the Curry Up Now Tikka Masala Burritos, or the Korean Burritos at John's Snack and Deli. It is just a giant awesome sushi roll that likes to fall apart.
So, not worth waiting 30 min in line for, but that is easily sidestepped I hear if you come early or late. Also the sushirrito is perhaps not worth 10+ dollars, but hey, where else are you going to get this? It's so San Francisco it hurts.