It's been five trips, so it's time to finally talk about the Aer Travel Pack. Bags are already pretty personal, but my time with this backpack has really driven home how silly all these 'The ULTIMATE Bag for Travel' posts are.
This bag is almost perfect… for me. It may be terrible for you. It just depends on your priorities, and how you like to travel. Here are the things that I consider when purchasing a bag, more or less in order of importance to me.
Style / Quality
Organization
Comfort / Weight
Price
I would say that it's like dating. You have all these grand ideas about what you want, but you have to try lots of things (people? bags? hmm that just sounds wrong…) to see what's really important to you. And you never really find 'the one.' But you find 'good enough' and you decide if you can live happily with the tradeoffs.
Style/Quality
I can't say that I drool over the look of the bag. It's big and black and burly, kind of handsome in a utilitarian way. But at least it's not hideous like some bags out there *cough cough*. Some people may be drawn to this look. Ryan in fact has bought quite a few bags that fit the 'black cordura utilitarian urban man bag' description. So of course he likes Aer a lot. I think he has like 5 of their bags.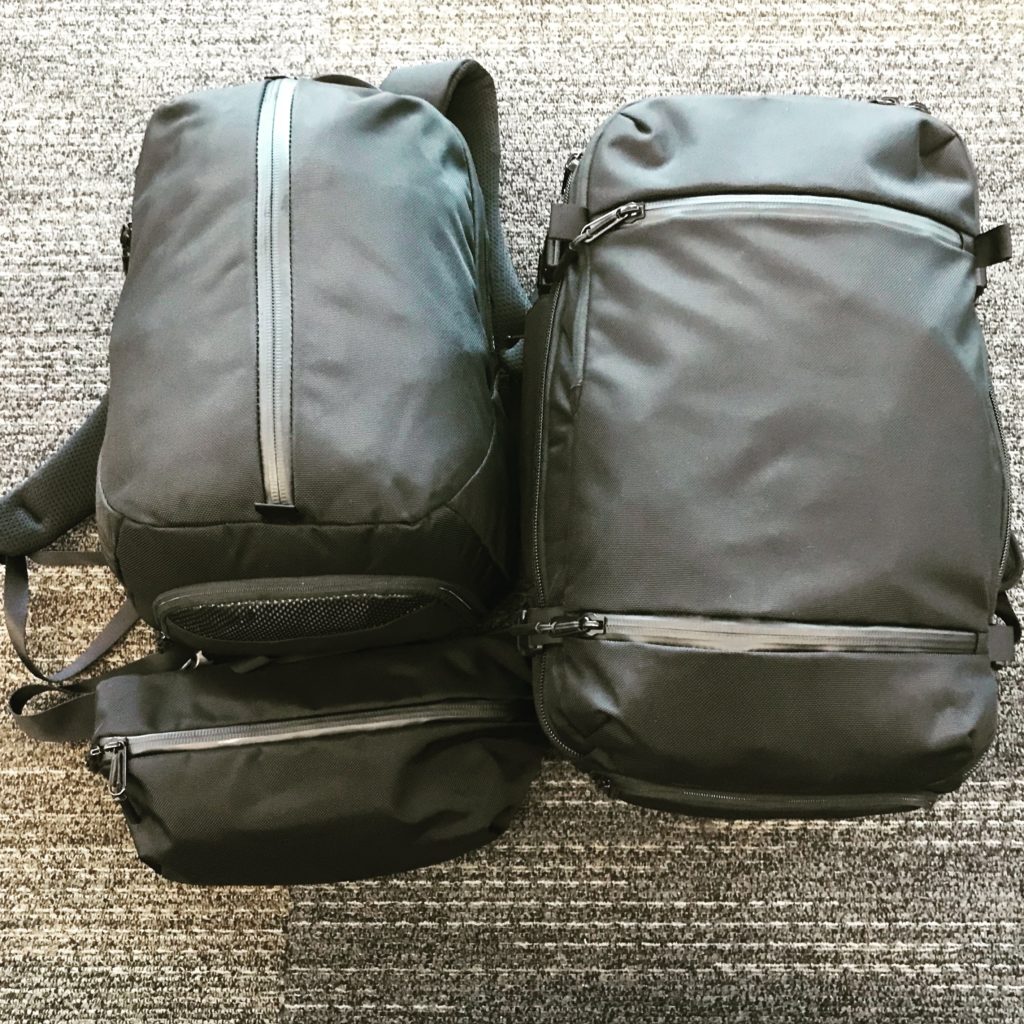 I may be on the fence about the style, but the quality is top-notch, no doubt. This bag is so well thought out for my particular style of travel (one bag/backpack/usually air travel/using under the seat space only). They've made this bag tough, with foam padding everywhere, which really gives the bag some structure, along with protecting the goods. OMG no more floppiness!!! And there are compression straps too! And a zipaway water bottle holder! But with all these rugged materials and padding comes weight…
Organization
Time with other travel packs has made me realize that organization is the most important thing to me. I fucking love this bag's pockets. Man, there are a lot of pockets. There's so many that at the beginning I forgot where I put stuff, which sounds bad for traveling. But once I had used the bag for a bit and had mentally established a place for every item I normally pack, ooooh it feels so good. Here's how I use my pockets:
Bottom shoe section -This section is lost on me. I wrap it up and totally ignore it. If I did use it, I would complain about the positioning, because it makes it awkward to use packing cubes. Maybe this would be a good place to put dirty clothes or swimsuits, like a built in laundry bag? Only caveat here is that there are two holes in the bottom to let stinky shoes air out so things can get wet if you put this bag down in a puddle.
Front bottom pocket – My computer charger brick goes here, along with various charging cords. It's a tight fit.
Front top pocket – This pocket goes all the way down to the front bottom pocket. My clutch size wallet goes here. I also stuff teabags in here.
Top stash pocket- My cell phone and headphones, passport.
Organizer panel – This is the droolworthy section. Keys, magazines, pens, snacks, NintendoDS… This section is large and deep, going all the way to the bottom of the bag. Aer's official photo of this panel really shows its potential, so here. Look at those pockets.
Computer panel – Just my laptop, occasionally a magazine. I forget if this area is off the ground, but it's definitely cushy.
Inside – I throw my packing cubes and toiletries here. On the panel zipper you see to the left – I usually throw my Nintendo DS game cartridges or my contacts there. No particular reason why, they just seem to fit well.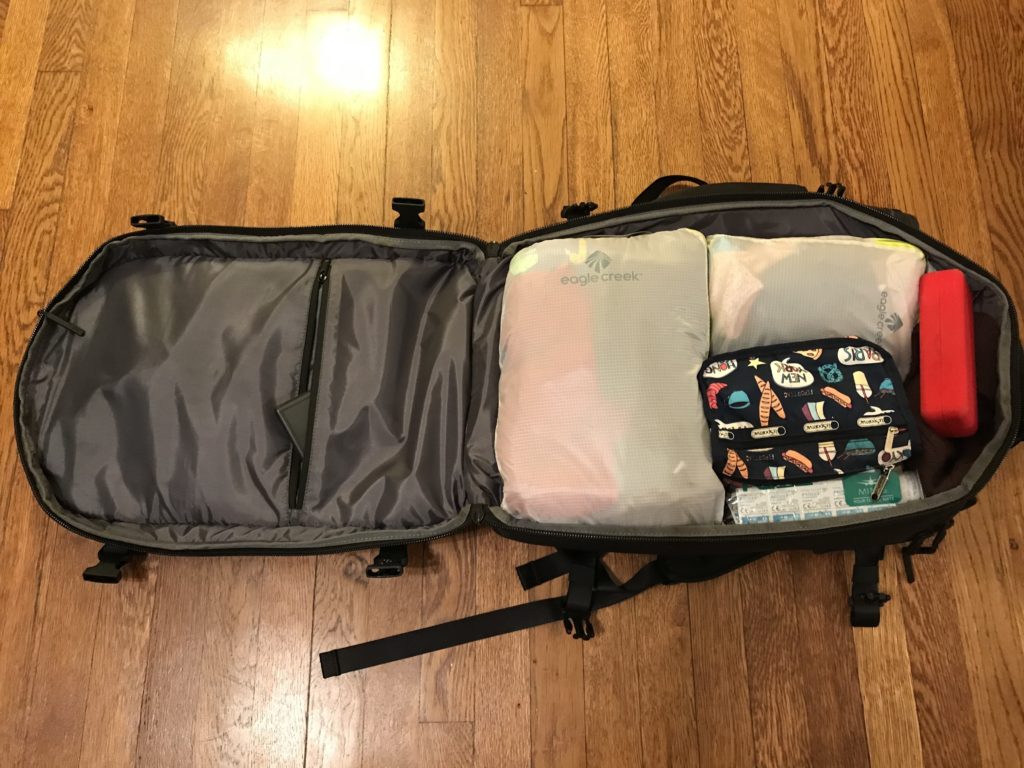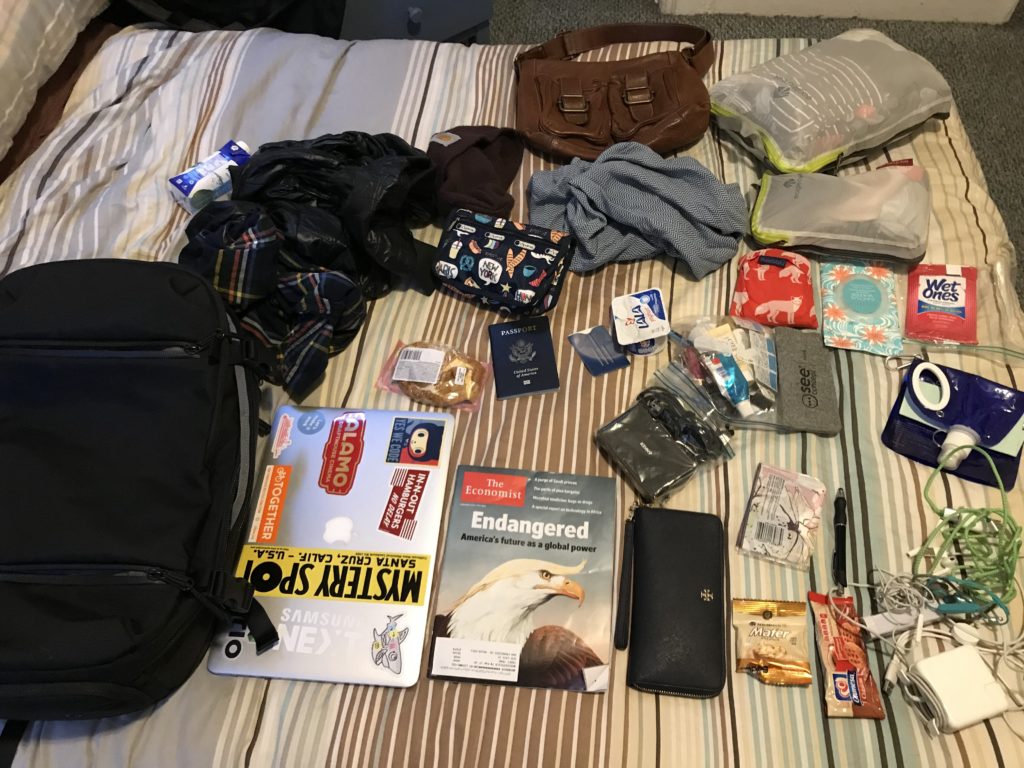 Comfort/Weight
This is the only bit to give me pause, and it's a biggie. This bag is heavy at 3.7 pounds just for 33L of space. And it's bulky AF. I'm five two, and according to Aer's website photos, this bag is for tall super hip tech bros going about their urban lives. And even on them the bag looks a bit much*.
There are so many ways they could lighten this bag up without sacrificing features. Mostly by removing a lot of the cushion. I don't need this thing to be bombproof. Maybe the laptop section, but everything else can go. Like the top grab handle is just overengineered. I don't need all that. The sides of the backpack don't need foam padding all the way around. The entire organizer panel does not need to be foam padded. My clothes will be fine.
Fitwise, the only thing that I really noticed was that the straps are about a half inch too wide for me. It bugged me at first, then I forgot about it. Oh, also the top adjuster straps are basically useless. They kept coming undone. This bag would be golden if it had some sort of hip belt to distribute the weight, but alas… Let's just say that you will feel the weight of this bag. It's not terrible, but it will slow you down.
Price
Okay I got this as a birthday present, but I think the price of $220 is totally reasonable for a bag like this. I have no idea whether or not this is an 'ethically made' bag like Cotopaxi, but it is a San Francisco company, so yay?
What it's like to use
The travel pack doesn't hide away its straps like many travel bags do, so it makes it not ideal for checking. But I don't check bags anyways.
Most important to me – it fits underneath the airplane seat!! The computer panel and stash pocket are accessible from the top, which is important when stuck on a plane. When I took my Cotopaxi bag, the computer zipper was on the side, and it was a nightmare getting things in and out, which I do like every 20 minutes.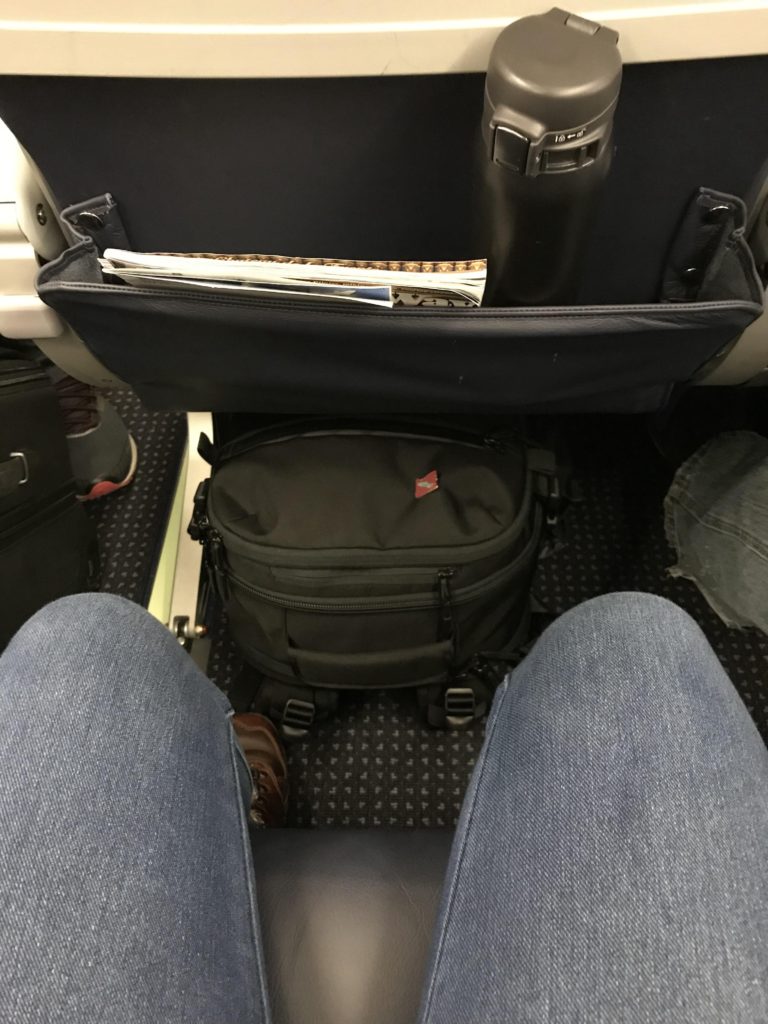 Whenever I got to my destination, I would take my items out of the front organizer panel and pockets, then leave the bag unzipped like it was my own dresser drawer. That was nice.
Verdict
It's not perfect, but I think I can deal with a little weight for all the organization happiness that this bag gives me. Maybe in the future Aer will make a lighter, possibly smaller version with a hip belt.
*An aside: Aer you need some more women on your site. With these super masculine brands (DSPTCH also comes to mind), not seeing any women modeling the bag is unwelcoming and made me question whether or not the bag would fit my body. I honestly would have bought this bag a long time ago if I had a better idea of fit.