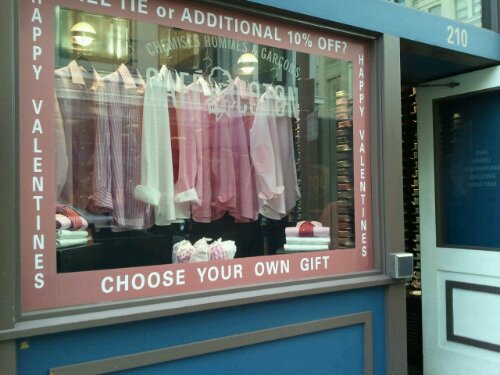 Oh dear. Despite what the weather would tell us to the clothing retailers it is Spring. Every year is a little different, but in general Spring means the following clothing trends that while I don't hate, just aren't part of my own personal style:
Pastel everything
Floral
Pink + beige- the "Desert Rose" look
White
Billowy +Gauzey
Ruffly
Chunky brown leather wedges.
Light denim
Seersucker
Now what to do if you don't like any of those styles? There is NOTHING out there for you! Here is my game plan to survive until Summer stock comes in:
1. Online shopping (Obbbbbviously). Yes, this is a "Well duh" option but I doubly recommend it because on many sites you can browse by color. Black please!
2. Frequent thrift or resale shops. While resale shops like Buffalo Exchange do stock up with seasonal and on-trend items, you should be able to find more diversity than whatever is out at your local chain shop. And after all if you're going to buy something trendy it might as well be cheap right?
3. If you simply must shop in the regular chain retail stores during the high season of fugly, check out the basics and accessories departments. There you are more likely to run into sane colors and a few whimsical things that will tide you over until color saturated summer clothes finally hit the racks.
4. This may not be an answer for many people, but have you considered sitting this shopping season out? Have a "Shopping Fast." Just don't buy anything. What? Does that sound boring? Try it. Things will get interesting, I promise.