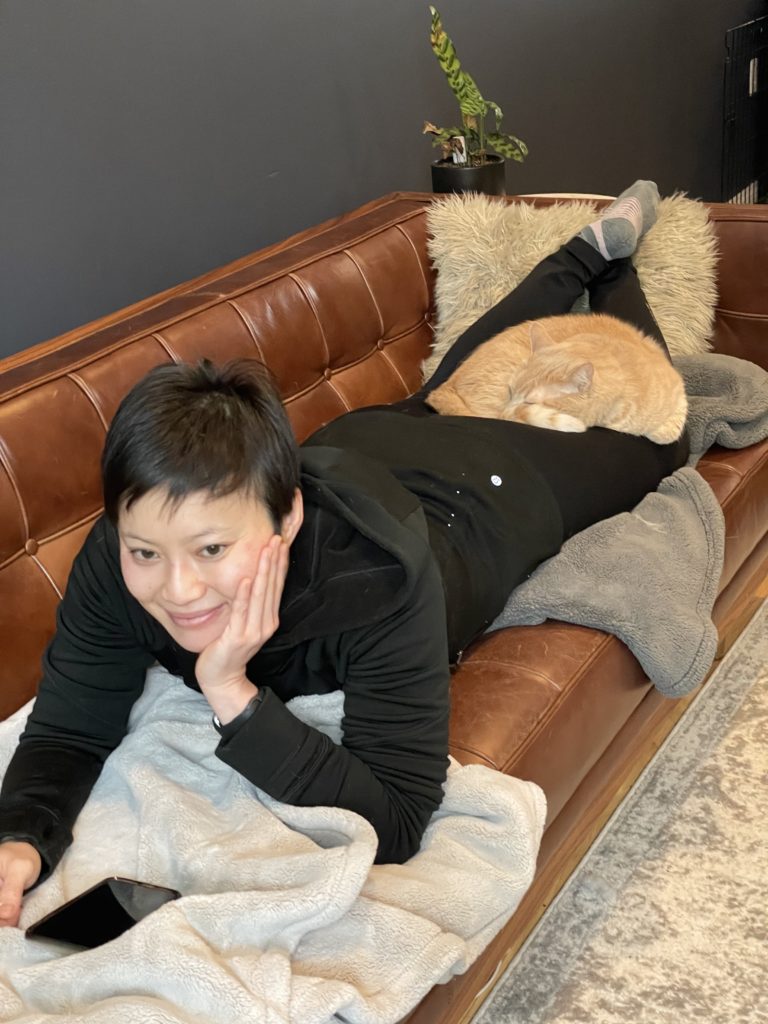 This morning I received an email from Chewy.com telling me that today is National Pet Parents Day! Apparently it's some holiday dreamt up to be like Mother's Day or Father's Day. Alas, the animals can't get me brunch or flowers.
Anyways, time flies – it's been more than a whole year with Seymour! I was so cautious about being tied down by a cat again, but this is a life decision that easily tips over into the PRO category. His presence is worth the trouble of the litter box and the price of the cat sitters. It's been fun to get to learn his personality over the past year.
10 Funny Things About Seymour
After taking him to the vet for an initial checkup, a specific caloric intake was recommended. Well, he's been on and off his diet for an entire year and he's gone from 17 to 15 lbs. The vet says he should be 12. That's my bad of course as the owner, but I swear this cat just wants to be large. I mean, his previous owners actually named him "Fat Cat." Maybe we should move toward acceptance, as long as he's healthy.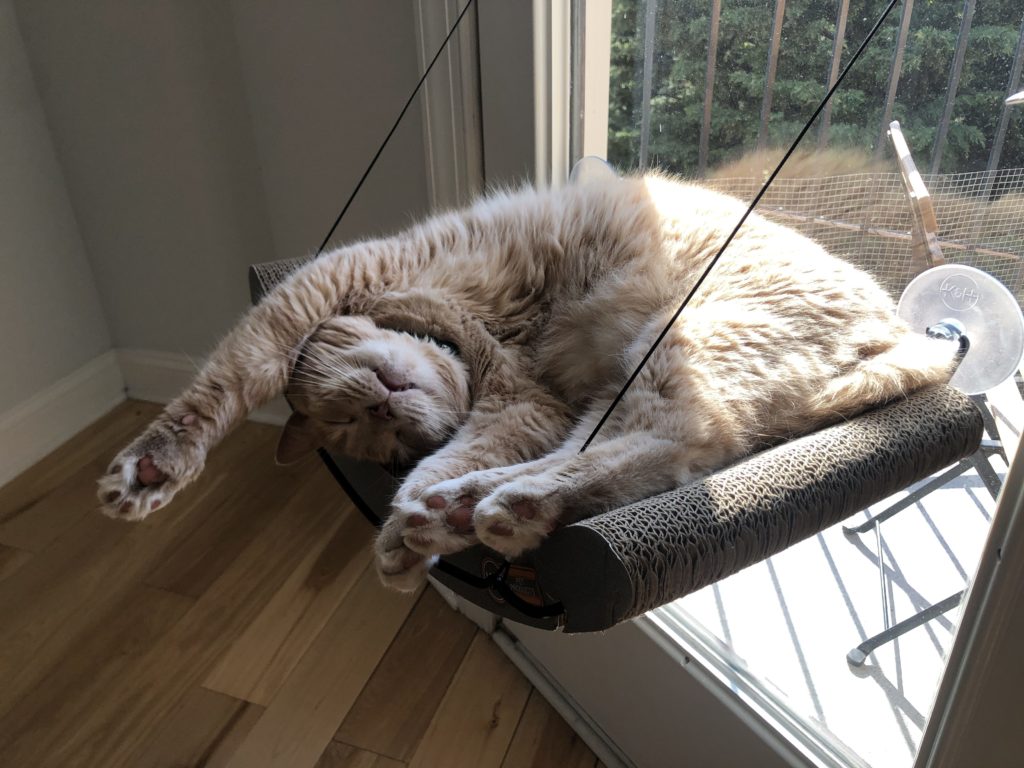 Seymour is so fat that he has to go up and down the stairs in one big burst of energy, lest he lose momentum. To go up the stairs, he crouches, his butt wiggles a bit as he prepares mentally, then he huffs up the stairs in a flurry, with a little "mrowwwww!" of effort all the way up. When hurtling down the stairs, he can't control his speed, and his tummy fat waddles left and right.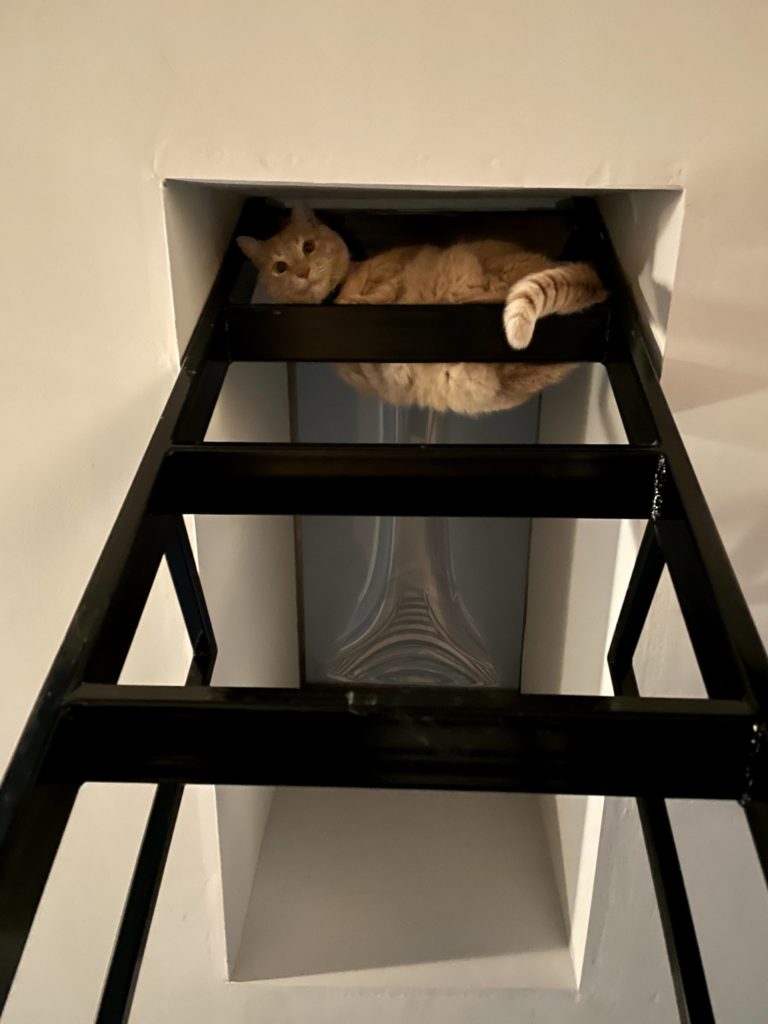 Going up the stairs is such an annoyance to him that he does something Ryan calls "Seymour Sonar." He'll sit at the bottom of the stairs and yowl plaintively like he's been hurt, waiting to see if one of us will respond with "Seymour??!!!!". Then he knows whether it's worth the effort to go upstairs.
Despite his girth, he's an agile and ferocious hunter.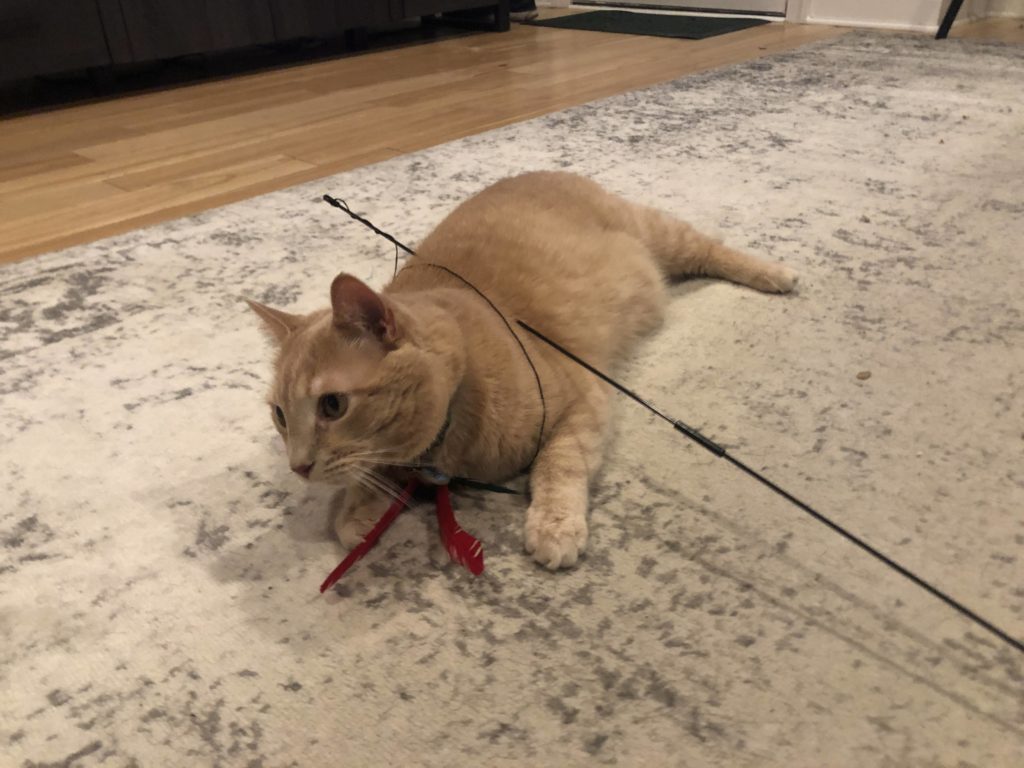 He loves to play with string,  and if I'm ever flossing anywhere in the house (4 times per day now that I'm doing Invisalign), before I'm done, Seymour will show up to watch me floss. To get a better look he'll stretch up against the vanity and try to bat at the floss. How does he know that I'm flossing? I think that maybe the floss I use is squeaky and sounds like a bird?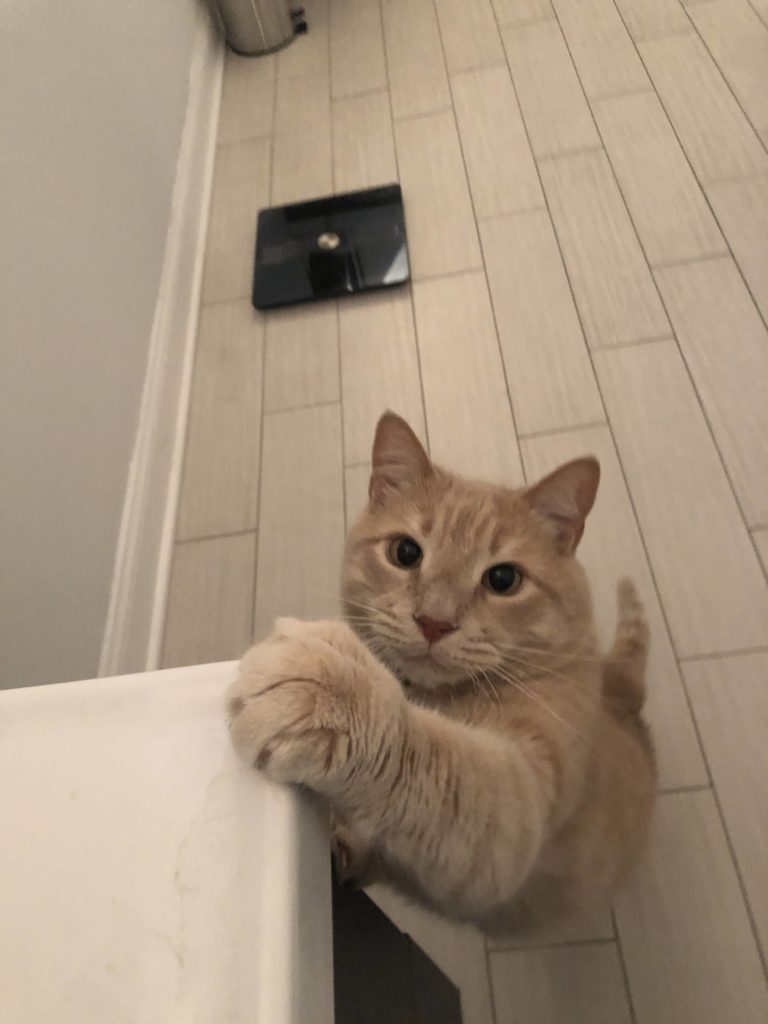 He fits a lot of cat stereotypes. He loves boxes, has hairballs, and pops the dog with his paw when annoyed. Just like Garfield!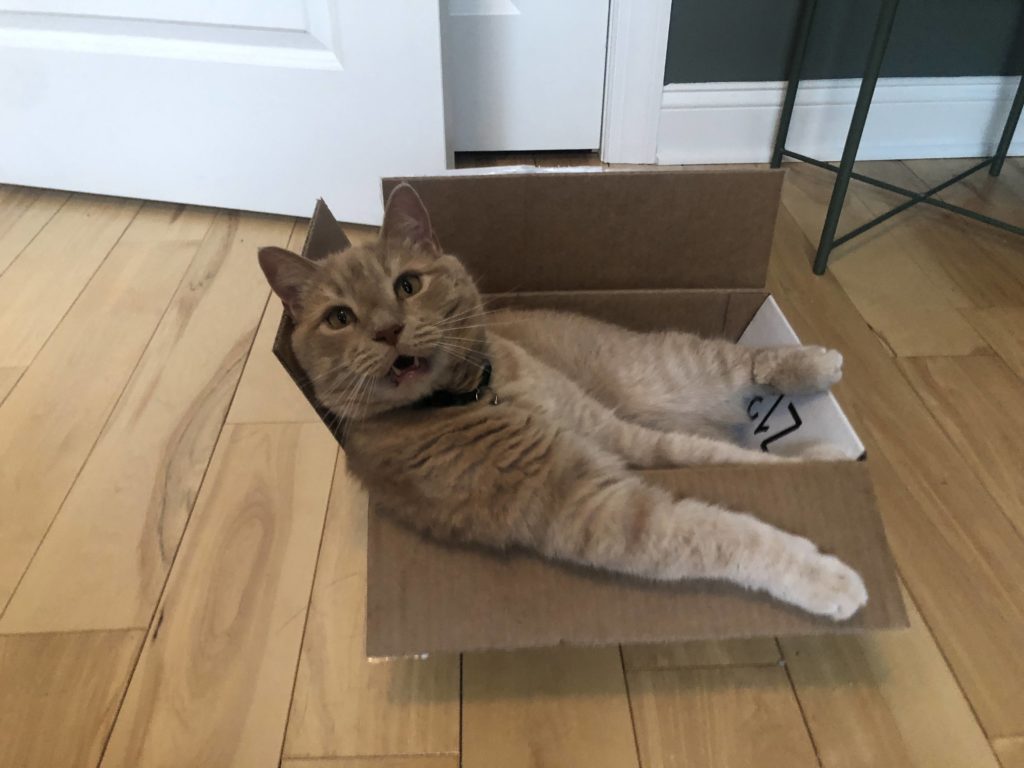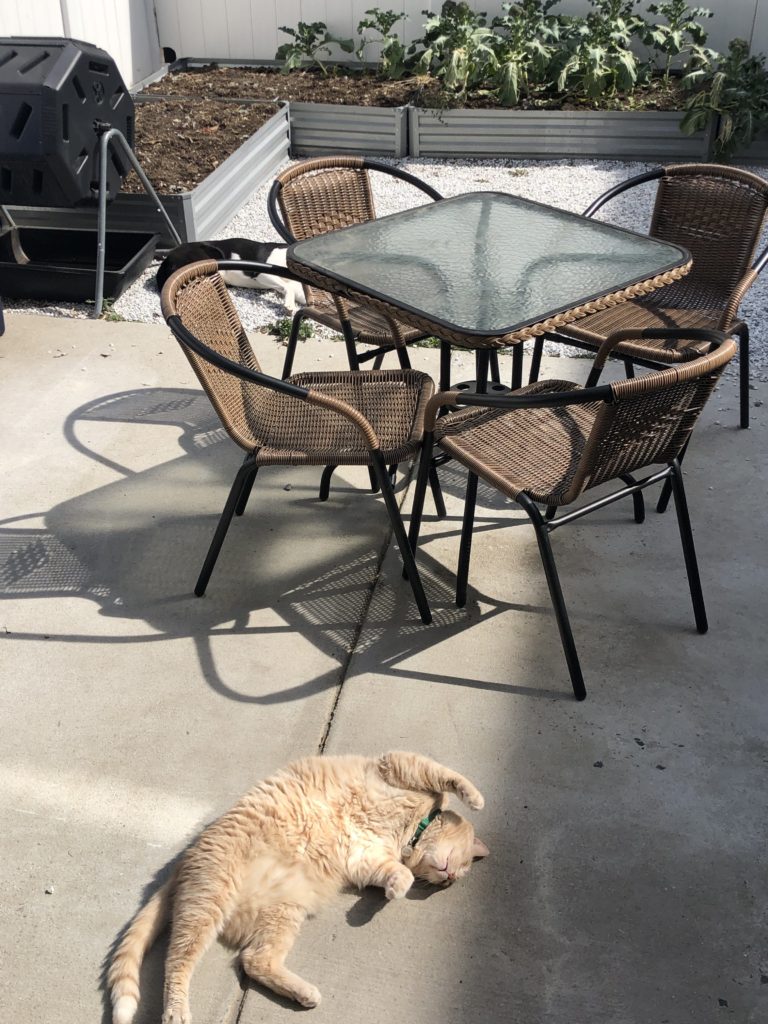 When it's cold he sleeps between my legs for warmth. Once he falls asleep, he snores the cutest little kitty snores.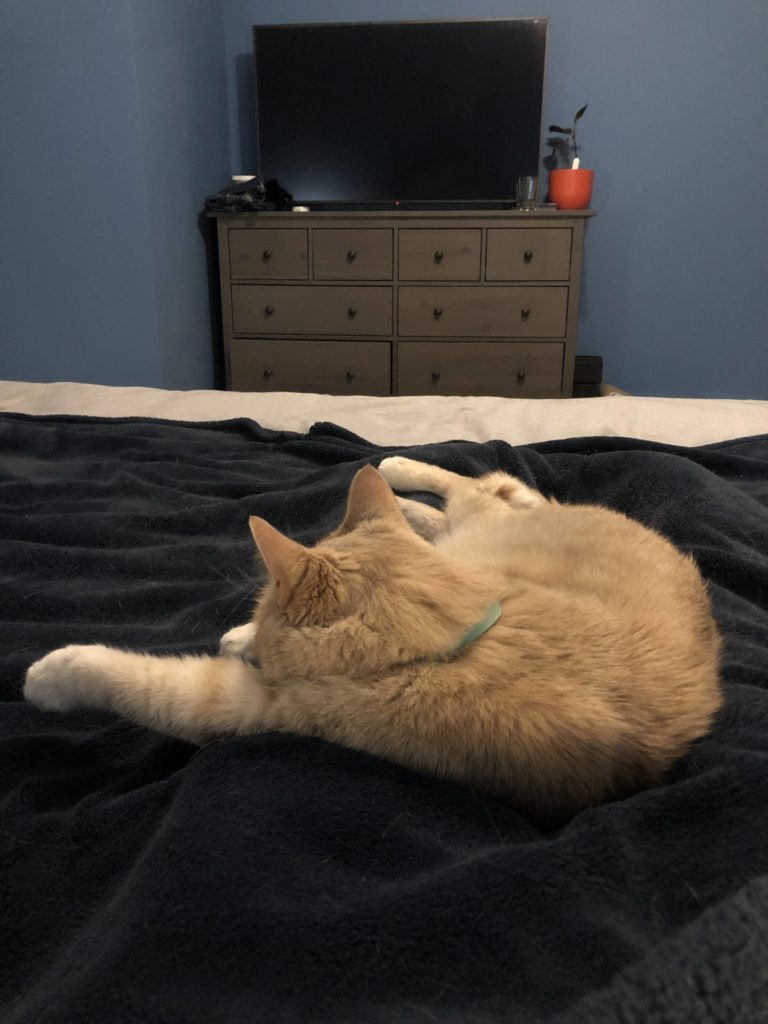 He's like a litterbox version of the fairytale "The Princess and the Pea". If there is but one smidge of poop hidden in the litter, the whole box is tainted, and he'll wail angrily for me to clean it up. If I wait too long to take care of it, he'll poop outside of the box in protest. Because of this, we have 3 litter boxes – almost one on every floor of the house. Every day I'm running all over the house checking each box, just in case. It's ridiculous, really. He'll also poop outside of the box when he's angry at me. When we went on vacation back in October, he had perfect litter box manners for the sitter for a whole week. I come home, and within 30 min there's poop on the carpet waiting for me to clean up. What the hell.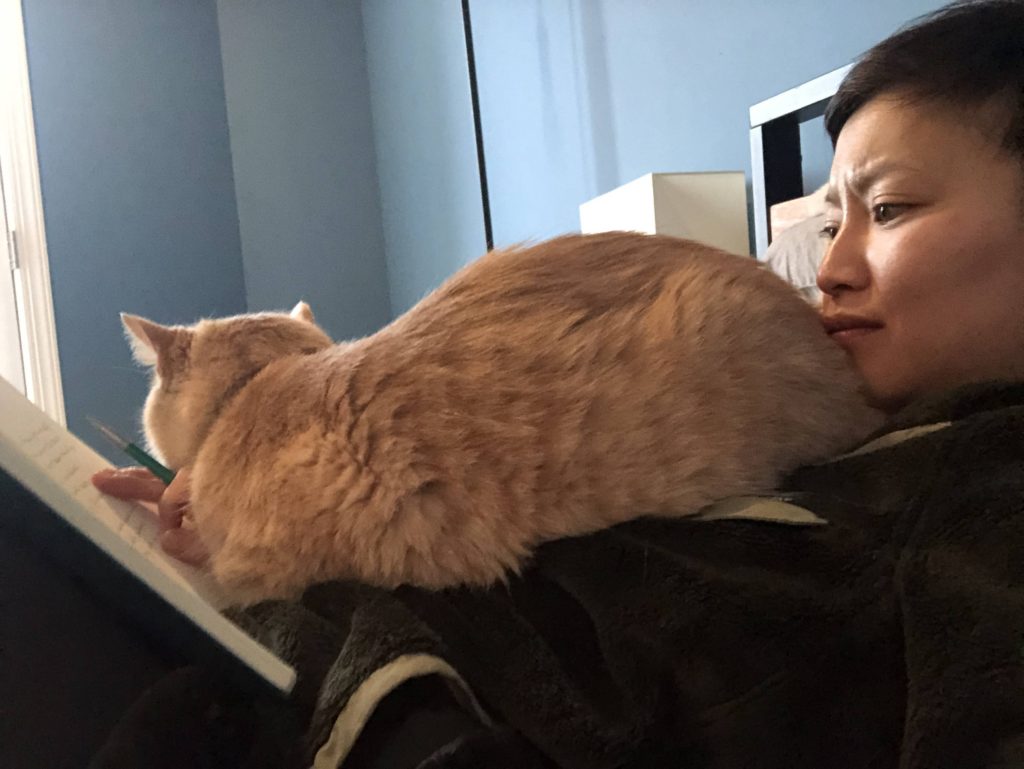 I can walk into his room (my office) with a bowl of wet food, set it down, and he'll sit outside the doorway staring in. He loves dry food, and sometimes he will wait for me to add dry food before he'll come over and start eating. I've figured out how to trick him by just lightly crinkling the kibble bag. Just the sound gets him running!
He is a good cat-brother to Bogie. They  tolerate each other 🙂