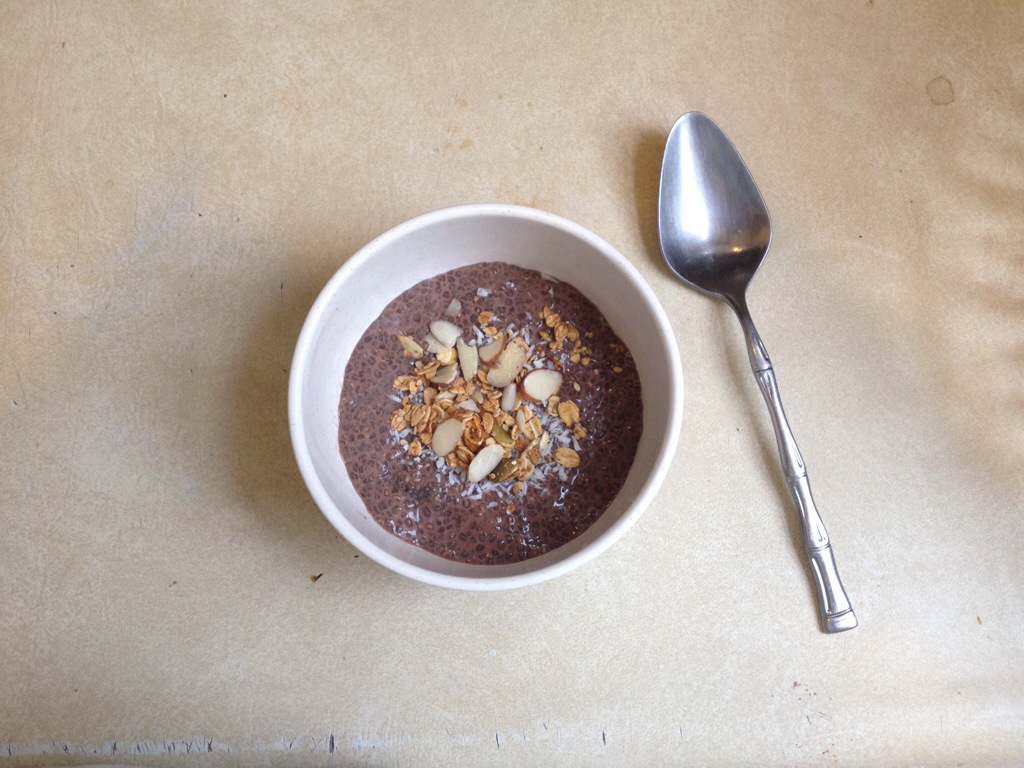 Years ago I picked up a packet of chia seeds from Trader Joe's for fun. Once I got home I looked up recipes. I honestly had no idea what to do with the damn things. The most popular thing to do seemed be turning the chia into a simple "pudding."
So I followed the recipe I found online. When I came back later and checked on my pudding, the entire bowl's worth had globbed together into one giant chia mush. It was a confusing and disgusting mess. So I gave up. I sprinkled the remaining seeds on my yogurt and oatmeal, and quickly forgot about nonsensical chia puddings.
Fast forward to this week. After having some pretty decent premade chia pudding from Whole Foods, I took a stab at Chia Pudding Version 2. I'm happy to say that it was a success! The secret is that you can always add more liquid. The chia will eat it right up. It's kind of terrifying to be honest. This chia could take over the world!
Eating gelled chia reminds me of being a kid. It's a fun food to eat, and the mouthfeel is indescribable. It's like eating boba, except more exciting because there are hundreds of seeds scrambling about in your mouth.
Because of the water absorption of the chia gel, it will FILL YOU UP. Great for breakfast! The omega-3's can't be beat for both joint health and hair, skin and nail radiance. Also, hella fiber. So, uh.. you've been warned.
Chocolate Vanilla Chia Pudding
Ingredients:
1 and 1/2 cup chocolate almond milk (I like Almond Breeze. Feel free to substitute with the milk of your choice such as soy milk or cow milk. You could also do juice.)
1/3 cup chia seeds
1/4 teaspoon vanilla extract
pinch of salt
Directions:
Mix ingredients in a Tupperware or mason jar. Stir vigorously with a fork to get the clumps out. Refrigerate a few hours, or overnight. The pudding will have gelled by then. Add more milk if you prefer a thinner and more liquid pudding.
Top your pudding with whatever you like- nuts, berries, gummi bears. I like using granola and coconut flakes.
Serves 3