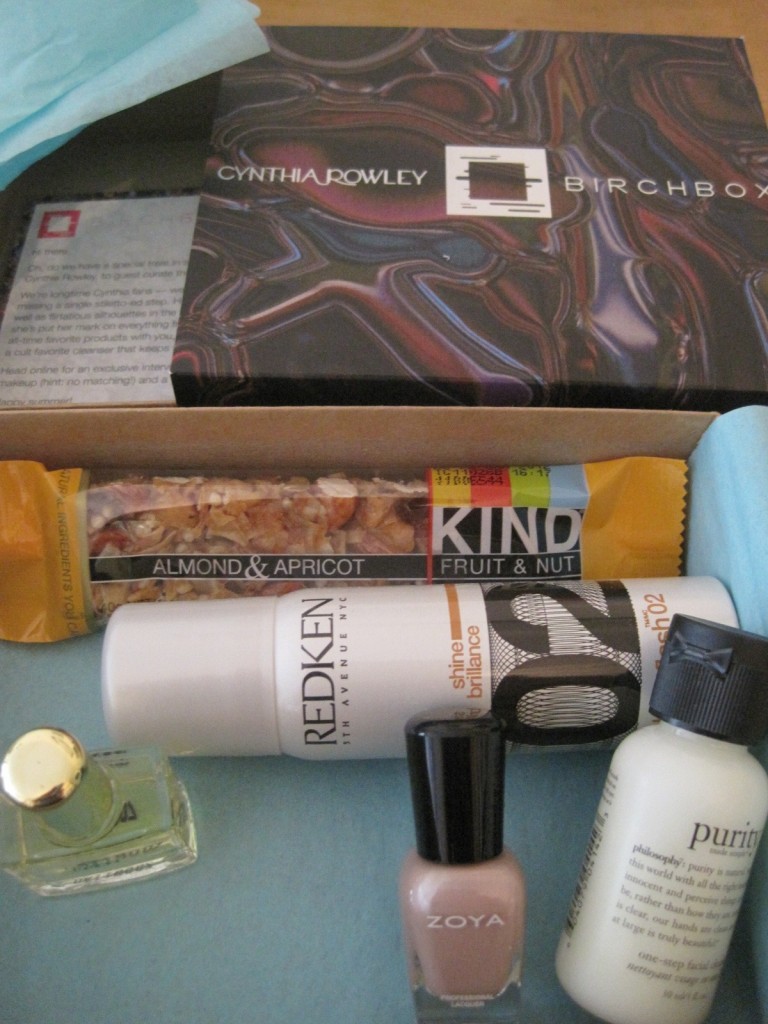 Another month, another Birchbox. Check out last month's post if you don't know what Birchbox is.
Last month's box felt safe, I thought. This month's was a little more out there. Every month has a different theme, and July's theme was "designer picked." Cynthia Rowley pulled together the pieces in this box.
Here's what I got in my box, and my comments:
1. Â Nuxe multi use dry oil- This was the wildcard product. It's a face/hair/body moisturizing oil. I enjoyed using it on my face, and it has a pleasant timeless fragrance, but it really does nothing for my hands and body, and the residue feels gross on hands. And yet on the face? Kinda nice. I know, it doesn't make sense. Unfortunately this product is pretty pricey, so I won't be purchasing when my sample runs out.
2. Redken shiney hair spray- I wanted to like this, but it smelled horrid and didn't make my hair any more luminous than usual. Either I have good hair or this product is snake oil.
3. Zoya nail polish in Pandora- I've been a little obsessed with painting my nails lately (stress reduction), so I was excited to try this eco-friendly nail polish out. It went on super creamy and seemed to dry quickly. The color left a bit to be desired. When I put it on my nails it made my tan hands look like creepy old claws. I was so bummed, but I wanted to give the color a chance. In Bikram, I thought the color looked sophisticated. By the next day the color had changed! The pinky beige was no longer shimmery, it had flattened out and looked disgusting. Man, Jekyll and Hyde nail polish. I liked the feeling of the formula so much that I'm willing to give another color a go, though.
4. Philosophy Purity cleanser- The surprise from behind. Smells great, feels great, and seems to be keeping my skin happy. I'll be purchasing this one.
5. A Kind bar.- I already love Kind bars. They're moist and yummy.
I've been really enjoying Birchbox, even with the major hits and misses from my last two boxes.