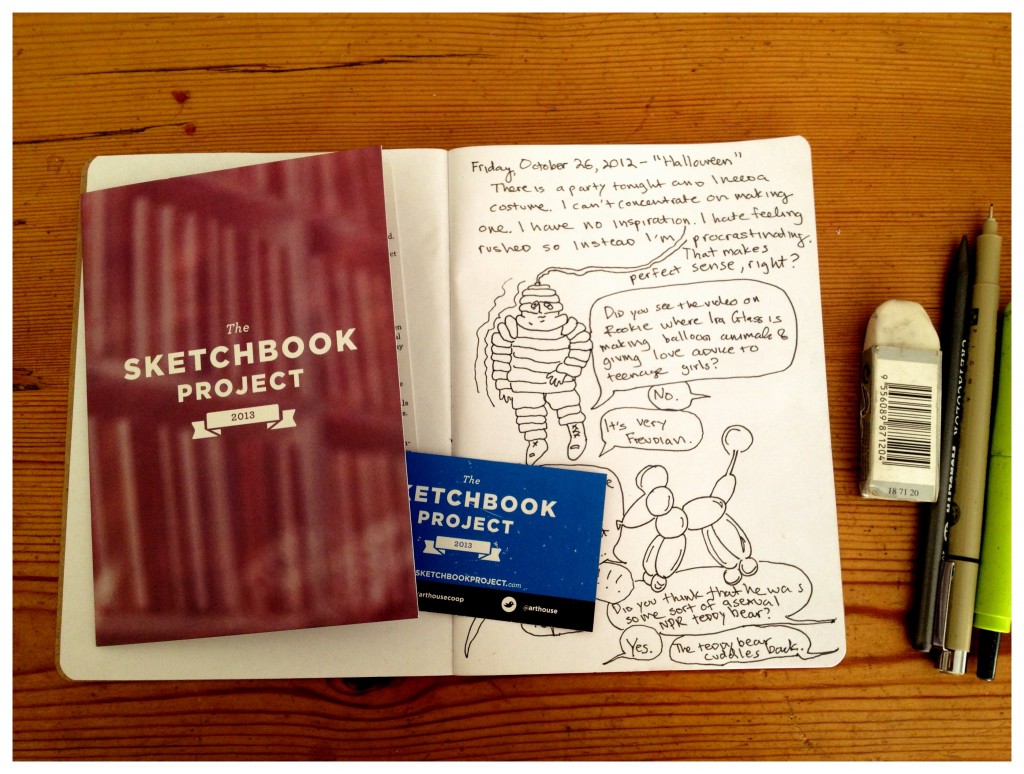 The Sketchbook Project
1. A friend from work told me about the very wonderful Sketchbook Project. Basically it's a traveling exhibition of artbooks, full of sketches or whatever you like, as long as the book isn't "sticky or abrasive"! The books have a permanent home at the Brooklyn Art Library.
It's $25 to participate, and an extra $30 to have your work digitized for the site. If you're interested, signups end on Halloween. You can use this code for $2 off: ADDAFRIEND.
About my book…
The library asks you to self-categorize your book. There are lots of options, from Dwellings to Dinosaurs, but for me the obvious choice was "Chronicles." I just got my book yesterday, and the due date is January 15, 2013. This last year has been an interesting time for sure, and I know that the next few months will be continue to bring personal challenges worthy of sharing. Holidays are stressful! For that reason, I've decided that it would be really awesome to just use the book as an intensely personal diary, and then come the new year I'll cast it off into the world for exhibition. Scary? Yes! Terrifying!
Anyways, I'll try to draw in it every now and then, and to not be too hard on myself. The last time I tried to force myself to draw everyday it was well intentioned, but didn't work for a variety of reasons (I was travelling away from my computer and materials, I was feeling private, etc.). Honestly the rules I set were too strict and it became a negative spiral when I let myself down. So, no rules this time, no personal judgement.
Papergirl San Francisco
2. Speaking of failed art projects… The due date for PaperGirl SF came and went, and I never finished my block print of a worm roasting a marshmallow over a fire (not my idea). I donated a few old prints that I had lying around, but I'm definitely disappointed in myself. Where does the time go? I'll still be happy to drop by the big art show and maybe I'll ride my bike around and pass out tubes of art to strangers, but I feel like an imposter. Onwards, right?