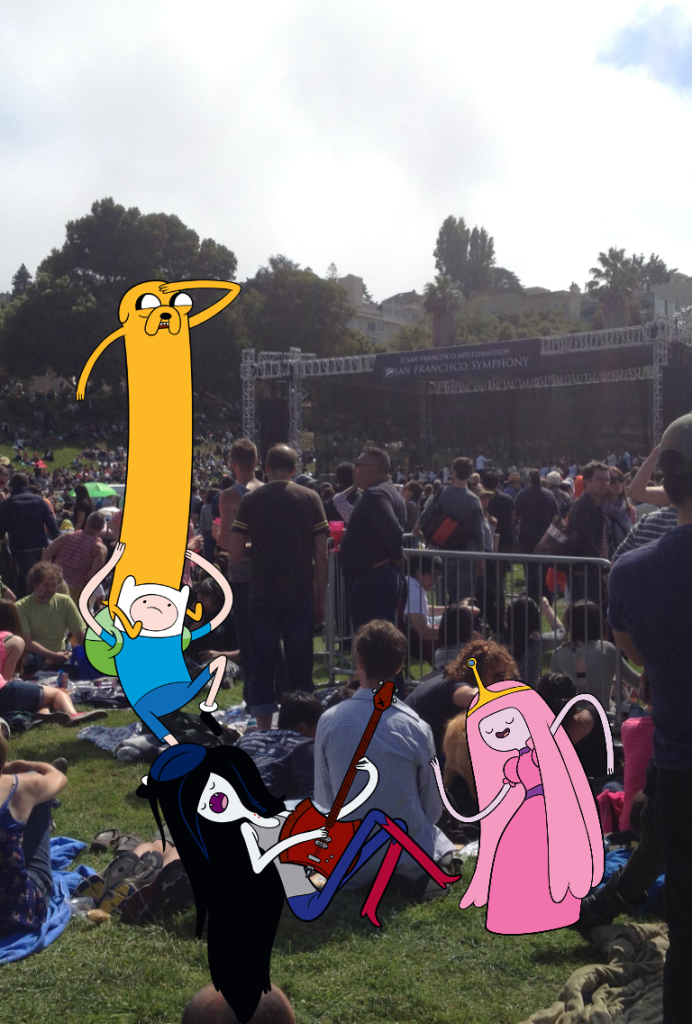 Just another Sunday in the park. Made this with Beemo, my new favorite iPhone app.
I packed a massive picnic (made my first crab rolls!) and headed to Dolores for the annual free concert in the park from the SF Symphony. The music was nice, but as I lay there sweating in the unusually hot weather, I realized: I'm just not that into the symphony.
It's taken me a few years to figure this out. I've seen some great shows. Rufus Wainwright, silent films and even Max Raabe & Palaast Orchester. But then none of these are purely music. They are music + a show. I like the idea of the symphony, but I really need something else to focus on. Otherwise I'll fall asleep. That's probably why I like opera so much. There's just so damn much to see. I don't know why there's that stereotype/joke of falling asleep at the opera. If you fall asleep at the opera, the opera will punch you in the face to wake you up. It's intense stuff.
But even though I'm not a fan, I've got to give it up for the SF Symphony. They're trying hard to connect to a younger fan base. Their next two shows this week are "Video Games Live" and music from "The Matrix." Yep. Exactly what it sounds like. They know the San Francisco audience :).
Ever since I saw a show at the Chicago symphony in 2011, I've been getting calls soliciting donations. I got a call a few days ago. This time I happily said "No thank you. I live in San Francisco. Also, I don't like the symphony." It was very satisfying.