Well, it's day 11 already! Time to do an update on this whole "I'm gonna go vegan and cut back on my sugar" resolution. Here we go:
Vegan update:
I've been staying on track at home and out at restaurants for the most part. I keep slipping up with condiments (aioli you fiend!). Missing bacon and eggs terribly.Starting to lean a little too heavily on the fake meats.
Sugar update:
I got it wrong in my last update- apparently Week #2 of the I Quit Sugar diet is continuing to cut back on Fructose + adding in more fats. So I don't have to go cold turkey until Week #3. Cutting back on sugar has been going okay since I have been eating blandly at home, but going out is becoming really hard.
Morale update: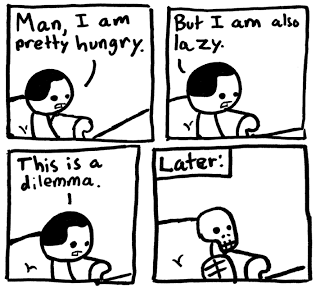 Couldn't track down where the original of this came from…
Oh friends, I am in a bad way.
My roommates are  currently minimally employed, and we've created a loving household routine as far as the workdays go. It's not lonely around the house. Everyone' s applying to jobs, or working on their website, or pursuing a personal passion. It's exciting. And everyone is cooking everyday. This is a struggle.
I wake up and shuffle off to the kitchen to make myself a pot of coffee and grab some vegan yogurt, and it smells wondrous- bacon, eggs and homemade bread and butter. Oy. Killing me. Then throughout the day, they just keep cooking. One roommate roasts a whole chicken. Another does steak and a sweet potato mash. So all I can do is look and salivate. I've gotta say, I haven't felt this kind of pit of my stomach hunger and mouthwatering aching for food in ages.
I've been busy with work stuff, so I'm not cooking as much as I'd like to. Since I'm feeling these crazy cravings I think that I'm going to try to  focus on all the good stuff that I CAN eat by pulling together some new hearty recipes. Here are a few recipes that look promising:
Red Lentil Soup with Curry and Coconut Milk
Chickpea Tagine with Cinnamon, Cumin and Carrots
Other thoughts
On the plus side, my skin is looking pretty awesome. There are less blemishes overall and the tone is evening. I can't tell the difference in my energy levels, but I will say- my alcohol tolerance is shot! It makes sense, I just didn't anticipate it.
PS- I tried making this Vegan Red Lentil + Butternut Squash Soup without the fenugreek. It was out of control delicious. Recommended!